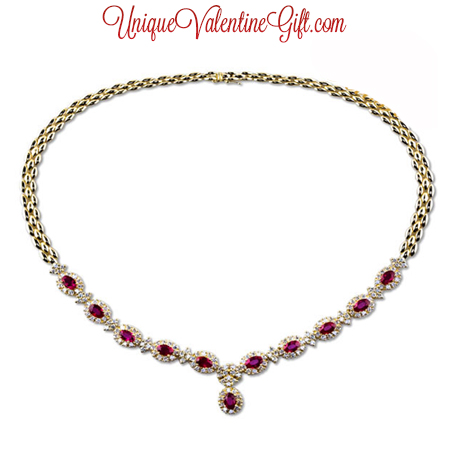 $13,300.00
PRODUCT ID : 02072014b2
Unique Valentine Gift presents the Diamond and Ruby Necklace.
This year we are proud to offer Diamond and Ruby Necklace, our nicest gift available. You will make a very strong impression to your Valentine when they are presented with this fantastic gift.
To top off our finest offering is, of course, fine jewelry: 10.5 carat total weight diamond and ruby necklace with 6.49 carat total weight oval rubies and 4.04 carat total weight round diamonds set in 14k yellow gold.All items are insured and delivered to your home by the United Parcel Service. UPS is committed to doing "absolutely, positively" whatever it takes to deliver your item to you.
Payment methods accepted









Billing Questions please call 202.285-3238